Affordable – Professional Waxing Salon for Brazilian Wax in Manhattan, NY
Professional Waxing Salon To Get Your Brazilian wax in Manhattan NY.Brazilian Wax Manhattan New York. Most experienced spa for Brazilian waxing and professional body waxing is Dyanna Spa in Manhattan, NY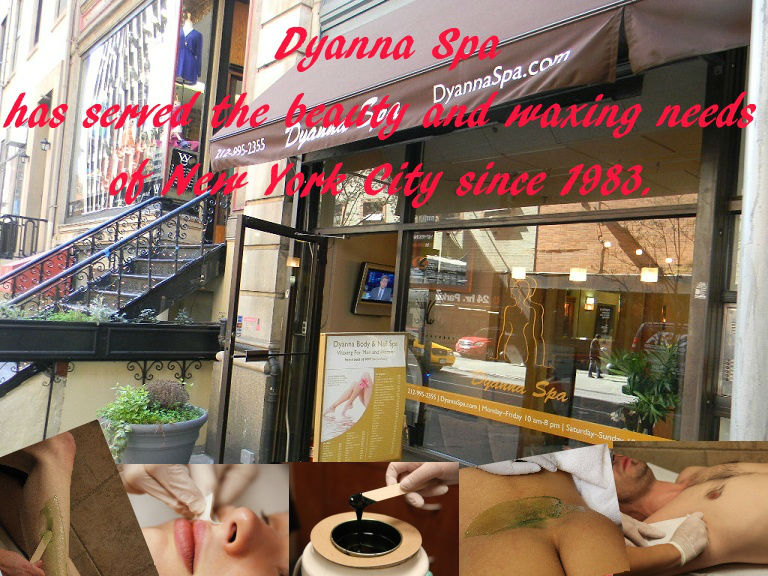 If you are seeking a place for safe and effective hair removal, the most experienced day spa for Brazilian waxing and professional body waxing is Dyanna Spa in Manhattan, N.Y. We have been serving the needs of New Yorkers since 1983, when we opened up one of the first N.Y.C. waxing salons in the city.
Times were tough back then. Since there wasn't enough waxing business to support our enterprise, we augmented our services with a nail salon.
Although we changed locations in 1987, we've been doing the same ever since. We believe in making our spa services affordable to everyone, and are proud of the fact that our prices have not risen in years.
Our day spa was and is still celebrated for a special waxing service we offered – Brazilian body waxing – years before it even was given that particular name. The clientele we had for body-waxing back then were members of the porn industry, gays, and Muslim men bringing their wives in for genital hair removal, which is a part of their religious culture.
What is a Brazilian wax treatment?
For those who may not be familiar with a Brazilian wax treatment, it is the process of removing hair around the private parts of the body. With your choice of wax (using either warm wax Azulene or Cirepil blue hard wax for sensitive skin), our esthetician removes all the hair from inside and outside the bikini line, including the vaginal lips and labia, and in between the buttocks, if you wish. You also have the choice of leaving a little bit of hair down the middle, called a "landing strip".
The history of hair removal
Hair removal did not start in the '80s. It is a centuries-old practice first documented in Egyptian society around 1150 B.C., where a hairless body was deemed ideal, along with youth and a youthful appearance. They used a variety of methods of hair removal, including sugaring, bronze razors, pumice stones, and tweezers made from seashells.
Alexander the Great had his men remove all of their facial hair before battle, so that the enemy wouldn't be able to grab their heads.
Greeks loved the idea of hairlessness. There is no pubic hair on any ancient Greek sculptures of women. Pubic hair was considered vulgar among the upper classes.
Romans idealized smoothness of the body as well. One look at Michelangelo's nude David says it all -- no hair except on his head. Young girls would remove pubic hair with tweezers as soon as it began to appear – and some people think waxing is painful!
Dyanna Spa's hair removal services for men and women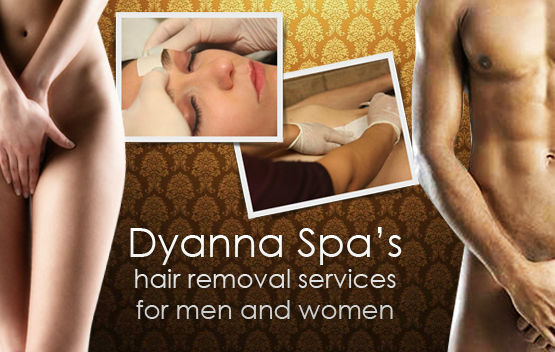 Dyanna Spa offers men and women a variety of hair removal services. Our treatments include removing unwanted hair from the face, underarms, back, chest, shoulder, arms, hands, fingers, stomach, legs and the bikini area.
We are proud of the recognition Dyanna Spa receives. For several years in a row, Citysearch and Local.com voted us as the best New York salon for waxing, for Brazilian Bikini wax, Bikini wax, and hair removal.
For the best, most experienced, hygienic and professional body waxing services, call Dyanna Spa now at (212) 995-2355, or drop by the spa at 40 E. 21st Street in NYC. You can also visit our website at http://www.dyannaspa.com/
We've been around for a long time.
Instant Online Spa Gift Certificates NYC may be purchased at our spa, online or phone. You may Choose from a list of spa treatments, spa packages or purchase your spa gift certificate for a specific amount.
Our locations:
Downtown ManhattanDyanna Spa's downtown address is 40 E. 21st Street (b/t Park Ave. S., & Broadway, Flatiron District). You can also call us at 212-995-2355.
Midtown East Manhattan Dyanna Spa's midtown address is 150 E. 39th Street (b/t Lexington Ave. & 3rd Ave. in Midtown East, Murray Hill). You can also call us at 212-213-0011.
www.DyannaSpa.com or www.BrazilianWaxingNewYork.com
Check out our new Facebook page!
We redesigned our Facebook page to make it easier for you to link to our current spa specials, website, blog, and more. Please take a minute to look at our great new design.
Keep up with Dyanna Spa NYC news, specials, and promotions.