Cheap Spa Packages in NYC.Spa Deals in Manhattan NY.
Cheap spa packages NYC.Cheap Spa packages in Manhattan NYC.Spa Deals in Manhattan NY.
Dyanna's Day Spa in NYC, NY is offering
cheap spa package
deals you can take advantage of all year long. Anyone who has heard of the renowned Dyanna Spa knows that a "cheap package deal" means "an affordable package deal". They know there is nothing cheap about any of the services offered at our award-winning New York spa.
Our New York City spa packages are for either those who can't decide which spa services to choose, or those who want to indulge in several spa services in one visit. We make it easy for you to decide and indulge with our great spa package deals – services that provide you with luxury at a reduced rate, according to your budget.
                                                         Dyanna's Day Spa Packages
Happy Birthday Spa Package:Technically, it really doesn't have to be your birthday to get this wonderful one and one-half hour spa treatment. For just $100.00, you can relax with a fusion massage, a mini facial, and a fantastic paraffin treatment for hands and feet.
Absolute Perfection Spa Package:Relax completely with this great package that includes a placenta facial, a hot stone massage, and a Jelly Pedicure. Enjoy two hours and fifteen minutes of pampering for only $135.00.
Massage and Facial Package:For two hours and fifteen minutes enjoy a European facial, a Swedish massage, and a Hot scrub. Cost is only $150.00.
Absolute Miracle Spa Package:Rejuvenate yourself for three hours at a cost of only $150.00 with these great services – a European facial, a Swedish massage, a Reflexology treatment, and a Regular Manicure and Regular Pedicure.
Fabulous Spa Package:It may be hard to believe, but for only $200.00, you can luxuriate in a three-hour package that includes a deep pore facial, a fusion massage, and a spa manicure and pedicure.
New York Spa Package:This is by far, one of our most popular packages. For $300.00, you receive three hours of pure pampering with your choice of a salon waxing, a facial, a spa body treatment, and a manicure and pedicure treatment.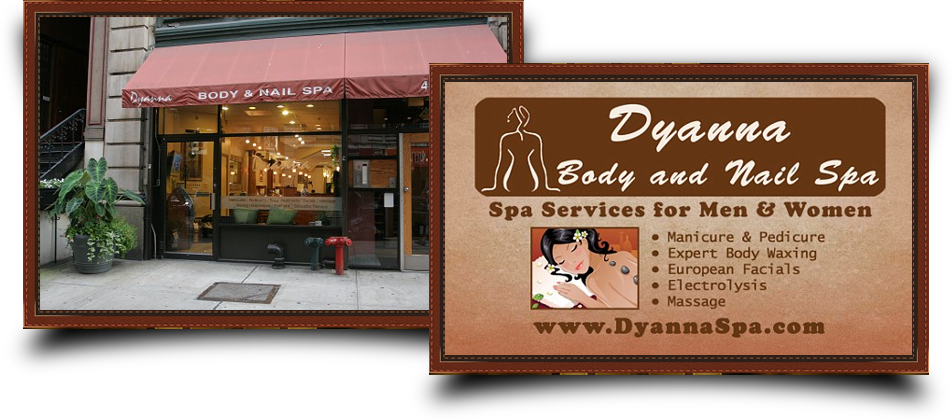 www.dyannaspa.com
                                                Our Brand New Spa Packages
Dyanna Spa is pleased to bring you two new spa packages. In fact, they are so new we haven't even officially named them!
New Spa Package #1:
For one hour and
$100.00,
indulge in a mini facial with a lymphatic drainage treatment, topped off with a neck and scalp massage.
New Spa Package #2:
Try our extraordinary back treatment (without exfoliation) and scalp and foot massage. For one hour, you receive these incredibly relaxing spa services for only
$100.00.
Our affordable spa packages make great presents for recent graduates, Mother's Day, birthdays, and other special occasions. They also make great gifts to give to yourself.
Purchase a
spa gift certificate
, or schedule an appointment for one of our "cheap"
spa packages in NYC
. You will leave our day spa thinking, "Ah…life is good". For more information, visit our site at
www.dyannaspa.com
.
Dyanna Spa !
Dyanna Body & Nail Salon Spa
42 East 21st Street Manhattan, NY
(212)995-2355
Keep up with Dyanna Spa NYC news, specials, and promotions.