Group Spa Visits and Group Manicure - Pedicures in Manhattan NY
For a great social gathering, plan a day spa party in Manhattan, N.Y.Bachelorette and Bridal party spa packages.
Group spa party packages NYC.Group Manicures and Pedicures in Manhattan.Bachelorette spa party in Manhattan NY.Bridal party spa packages nyc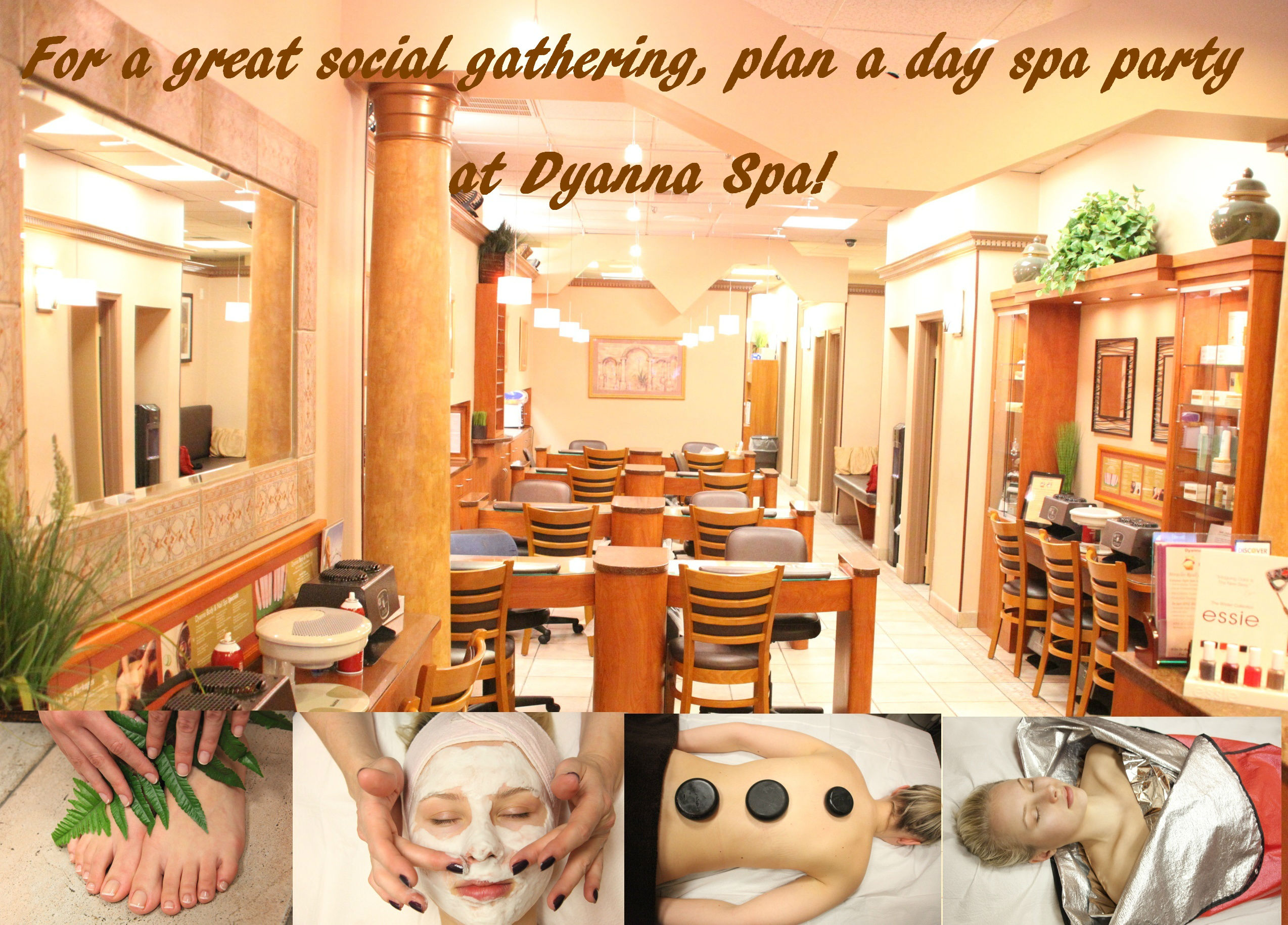 For a great social gathering, plan a day spa party in Manhattan, N.Y.
If you'd like to create a great social gathering with your friends, family, or co-workers, plan a day spa party in Manhattan, N.Y. Spa parties are the latest trend for entertaining small groups of people, and provides a great relaxing place to celebrate a girls night out, baby showers, and birthday and bachelorette parties.
Because we have hosted so many spa parties, all of us at Dyanna Spa can attest to how much fun they are. You can bring your own wine or champagne (and plastic cups only, please) and chat while our estheticians provide the utmost in pampering.
How to plan a day spa party
Here are a few steps the person organizing the day spa party needs to follow.
1. Decide whom you are going to invite.
2. Send out invitations (emails are easiest) at least three weeks before the party and include the Dyanna Spa website and Facebook page so your guests can choose the spa treatment they would like.
3. Make sure the invitations have an RSVP date so guests will have plenty of time to make plans, and you'll have enough time to schedule the different spa services each one of them would like.
4.
After you have a list of which spa services each guest wants, set up a schedule with one of our day spa staff members.
                                            Spa Party Treatments
The most popular spa treatments for spa parties are facials, manicures, pedicures and massages. However, we offer a host of other spa services including hair removal and body treatments.Facials: For summer, we recommend several specific facials.
 Peeling Facial uses vegetable and fruit enzymes for a thorough exfoliation. It rejuvenates the skin, giving it a more youthful glow.
 Deep Pore Cleansing Facial is for people with acne and large pores. Our esthetician extracts all blackheads and whiteheads and then applies a moisturizing mask.
 Hydra 4 Sensitive Skin Facial uses olive oil, olive leaf extracts and seaweed to nourish and moisturize sensitive skin.
Manicures and Pedicures: We have so many choices for mani/pedi services it's hard to choose! Here's a sampling.
 The Black Currant Manicure is great for rejuvenating your skin. Your hands are soaked in a solution made from black currants, which are rich in phytonutrients, antioxidants, vitamins, and minerals. It's followed by a nail polish color of your choice.
 The French Manicure consists of a light-colored nail polish on the nail bed and white nail polish on your crescent-shaped nail tip.
 The Brazilian Keratin Manicure is for dry skin and brittle nails. Specially lined gloves moisturize your hands and strengthen the nails prior to the manicure. It's followed by a nail polish color of your choice.
 The Foot Paraffin Treatment is for total hydration. It's one of the best pedicure treatments we offer for dry, callused or cracked feet.
 The Sweet Green Tea & Silver Birch Spa Pedicure is exceptionally relaxing and restorative as you soak your feet in green tea extracts containing vitamins, minerals, and anti-oxidants. It's followed by a nail polish color of your choice.
Massages:
It's hard to imagine anything more relaxing than a great massage. Here's a sampling of what our New York spa has to offer.
 Swedish Massage: Our certified masseuse will knead out all those tension-caused knots, and improve blood flow and release of toxins that build up in your muscles.
 Deep Tissue Massage: Our massage therapist goes deep into the muscles where much of the tension lies.
 Hot Stone Massage: Heated basalt stones are place on specific points on your back to relax and improve the flow of energy throughout your body.
 Aromatherapy Massage: This massage involves rubbing and kneading the skin with scented plant oils, which promote relaxation, well-being, and healing.

At Dyanna Spa, we can cater up to ten people for some spa treatments. Give us a call now to speak with one of our staff members who can provide specific information and prices on all of our spa services and spa specials and help you plan your spa party.
Instant Online Spa Gift Certificates NYC may be purchased at our spa, online or phone. You may Choose from a list of spa treatments, spa packages or purchase your spa gift certificate for a specific amount.

Dyanna Body & Nail Salon Spa
121 Madison Ave ( between E 30th & E 31 street), NY 10016 – (212.995.2355) 
Monday-Friday: 10 a.m.-8 p.m. Saturday and Sunday: 10 a.m.-6 p.m.
150 East 39th Street Manhattan, NY 10016 – (212.213.0011) 
Monday-Friday: 10 a.m.-8 p.m. Saturday: 10 a.m.-6 p.m. Sunday: closed
Check out our new Facebook page!
We redesigned our
Facebook page
to make it easier for you to link to our current spa specials, website, blog, and more. Please take a minute to look at our great new design.
Keep up with Dyanna Spa NYC news, specials, and promotions.