Male Eyebrow Shaping New York.For the best eyebrow shapes for men, visit our N.Y.C. day spa.
best eyebrow shapes for men Manhattan NY,Eyebrow waxing for men in Manhattan NY

Male Eyebrow Shaping New York, NY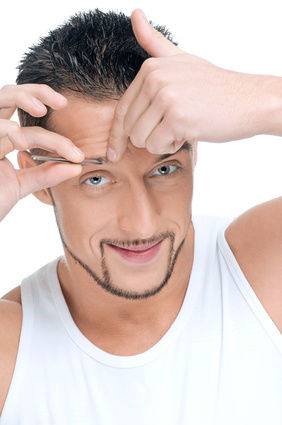 For the best eyebrow shapes for men, visit our N.Y.C. day spa and our estheticians will contour your eyebrows to fit your face perfectly.Our professional staff at Dyanna Spa will rid you of those bushy eyebrows or that caterpillar of a unibrow, so that your spouse or significant other will see your beautiful eyes and face in a completely new light.

We offer several different hair removal techniques for eyebrow shaping so you won't have to spend any more time painfully tweezing and plucking thick eyebrows. Our consultants will help you choose the one that is best for you.Eyebrow Waxing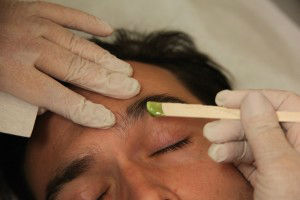 One of the most effective methods of unwanted hair removal is waxing. It is a simple and efficient process taking just a few minutes. One of our estheticians applies a specially formulated warm wax, Azulene, to the brow area with a wooden spatula and covers the waxed area with paper strips. Once the wax dries, she quickly removes the paper strips along with all of the unwanted hair.

For men with more sensitive skin, we recommend a non-paper strip wax called Cirepil Blue Hard Wax. We apply this low-temperature wax over the desired brow area, where it adheres only to the hair and not the skin. Once it hardens, we simply peel over the wax. It's a great alternative to Azulene wax and costs only a little bit more.

We adhere to a single-dipping policy for your health and well-being, with a different spatula used for each swipe of wax.This prevents germs and bacteria from contaminating the wax. Your safety always comes first at Dyanna Spa.Eyebrow waxing hair removal treatments slow hair regrowth. In addition, the hair will grow back finer and thinner. When the hair does begins to return, just come in for an eyebrow touch up. It's an easy way to clean up the regrowth in no time at all.Eyebrow Threading

This hair removal method dates back to the early Egyptians and remains very popular today because of how precisely it works. Our highly skilled esthetician, using only 100 percent cotton thread, twists the thread and rolls it across the brow area. As it rolls, the thread captures a line of hair and lifts it out by its roots.

Eyebrow threading is extremely hygienic, is excellent for people with sensitive skin, and slows the time that hair grows back. It never causes ingrown hairs, bumps, or prolonged redness, and is an excellent bushy brow removal choice.

Electrolysis

Electrolysis is an FDA-approved permanent technique for hair removal that requires several sessions. Our certified electrologist, using the most advance equipment, will create the perfect contour to best suit your facial features. This method is safe and chemical-free.

For the best in professional eyebrow shaping services for men, call Dyanna Spa now at (212) 995-2355, or drop by the spa at 40 E. 21st Street in NYC. You can also visit our website at www.DyannaSpa.com or  www.BrazilianwaxingNewYork.com

 
Instant Online Spa Gift Certificates NYC may be purchased at our spa, online or phone. You may Choose from a list of spa treatments, spa packages or purchase your spa gift certificate for a specific amount.

Our Locations:

Midtown East Manhattan

Dyanna Spa's midtown address is 150 E. 39th Street      (b/t Lexington Ave. & 3rd Ave. in Midtown East, Murray Hill).          You can also call us at 212-213-0011.

Downtown Manhattan

Dyanna Spa's downtown address is 40 E. 21st Street           (b/t Park Ave. S., & Broadway, Flatiron District).            You can also call us at 212-995-2355.

Dyanna Spa!

Keep up with Dyanna Spa NYC news, specials, and promotions

 

www.DyannaSpa.com or www.BrazilianWaxingNewYork.com
Check out our new Facebook page!
We redesigned our
Facebook page
to make it easier for you to link to our current spa specials, website, blog, and more. Please take a minute to look at our great new design.
Keep up with Dyanna Spa NYC news, spa specials, and promotions on Brazilian wax hair removal.