Brazilian Waxing Treatments during Pregnancy: Are they Safe?
Brazilian Waxing Treatments during Pregnancy: Are they Safe?
Hair Removal For Pregnant women Manhattan NY, Brazilian waxing during pregnancy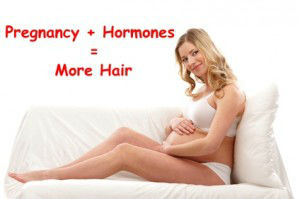 Waxing Treatments during Pregnancy: Are they Safe?Many pregnant women come into our New York day spa, asking if waxing treatments during pregnancy are safe. At Dyanna Spa, we take great pains to ensure that all of our pregnant clients get the safest of spa services, especially when it comes to waxing.
Pregnancy + Hormones = More Hair
It is a fact that certain hormones during pregnancy become very active to ensure that the baby has a safe haven in which to develop. Along with all the hormonal activities, comes increased body hair growth.
In pregnancy, there are places where hair grows faster and more thickly in unwanted places – perhaps on your face, arms, legs, back, chest, and pubic areas. If you are pregnant and want to get rid of excess hair, Dyanna Spa, one of the oldest waxing spas in the city, is the place to go.
Bikini waxing and Brazilian waxing treatments for expectant moms
We suggest at the early stages of your pregnancy, that you start with a bikini wax, since your skin will be more sensitive. You may want to begin with a modified bikini waxing -- one where less hair is removed close to the vagina. Then, as your pregnancy progresses, you may want to advance to a Brazilian wax. In the later stages, a modified bikini wax treatment is probably your best bet.
We have two wax options you may want to consider:
Azulene wax
is a warm wax, which uses paper strips to remove unwanted hair.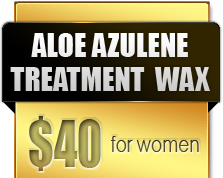 Cirepil Blue Hard wax
, a strip-less process, is for people with sensitive skin, and used for hair removal in the more sensitive areas of the body.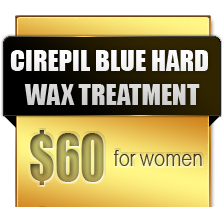 How to ensure that waxing treatments during pregnancy are safe
There are several precautions to take to ensure that waxing treatments during your pregnancy are safe.Check with your health care provider to make sure they feel you are a good candidate for waxing hair removal treatments. The presence of certain conditions, like eczema and high blood pressure, may remove waxing from consideration as a hair removal option.
Always use the services of a reputable waxing salon.
During pregnancy, because skin becomes more sensitive, some women experience skin abrasions after a waxing treatment. Abrasions can lead to an infection, so be sure to use a soothing antibiotic cream after a Brazilian Bikini wax treatment.Dyanna Spa protects our pregnant clients
Dyanna Spa, known for its hygienic and spotlessly clean waxing salon, has only experienced and professional estheticians who know the proper steps to take for waxing our pregnant clientele. We will be happy to consult with you to answer any questions you may have.
Expectant moms – you need not worry when you are in our hands.
To make an appointment for your safe waxing treatment, visit our website at
http://www.dyannaspa.com
, or give us a call at 212-995-2355.
Instant Online Spa Gift Certificates NYC may be purchased at our spa, online or phone. You may Choose from a list of spa treatments, spa packages or purchase your spa gift certificate for a specific amount.

       DOWNTOWN
42 East 21st Street  New York, NY 10010(b/t Park Ave. S. & Broadway, in the Flatiron District)
212-995-2355
---
      MIDTOWN 
150 East 39th Street New York, NY 10016
(b/t Lexington Ave. & 3rd Ave. in Midtown East, Murray Hill)
212-213-0011
www.DyannaSpa.com
 or 
www.BrazilianWaxingNewYork.com
Keep up with Dyanna Spa NYC news, spa specials, and promotions on Brazilian wax hair removal.